There's no shortage of EB-5 news with the IIUSA Conference kicking off tomorrow. The industry is still digesting the most recent congressional hearings on TEAs and the SEC's movement against Jay Peak, but add another important item for EB-5 stakeholders to be aware of this week: New TEA Data.
The Bureau of Labor Statistics released the finalized 2015 annual average unemployment data for metropolitan statistical areas (MSAs), cities and counties Friday April 15th. These data commonly serve as the basis for high unemployment area calculations to determine qualifying targeted employment areas under the EB-5 program throughout the year.
This update to 2015 unemployment rates is extremely important for EB-5 project stakeholders to be aware of because a state-issued TEA letter should be current. It is recommended that the state TEA letter speak to the most current data that the state is utilizing at the time of the investment or at the time the I-526 is filed. In other words, using outdated or "old" TEA letters leads to possible RFEs. For the majority of states, the most current unemployment data is now reflective of 2015 calculations and TEA letters included with I-526 submissions should be reflective of these recent updates.
Impact DataSource Free TEA Map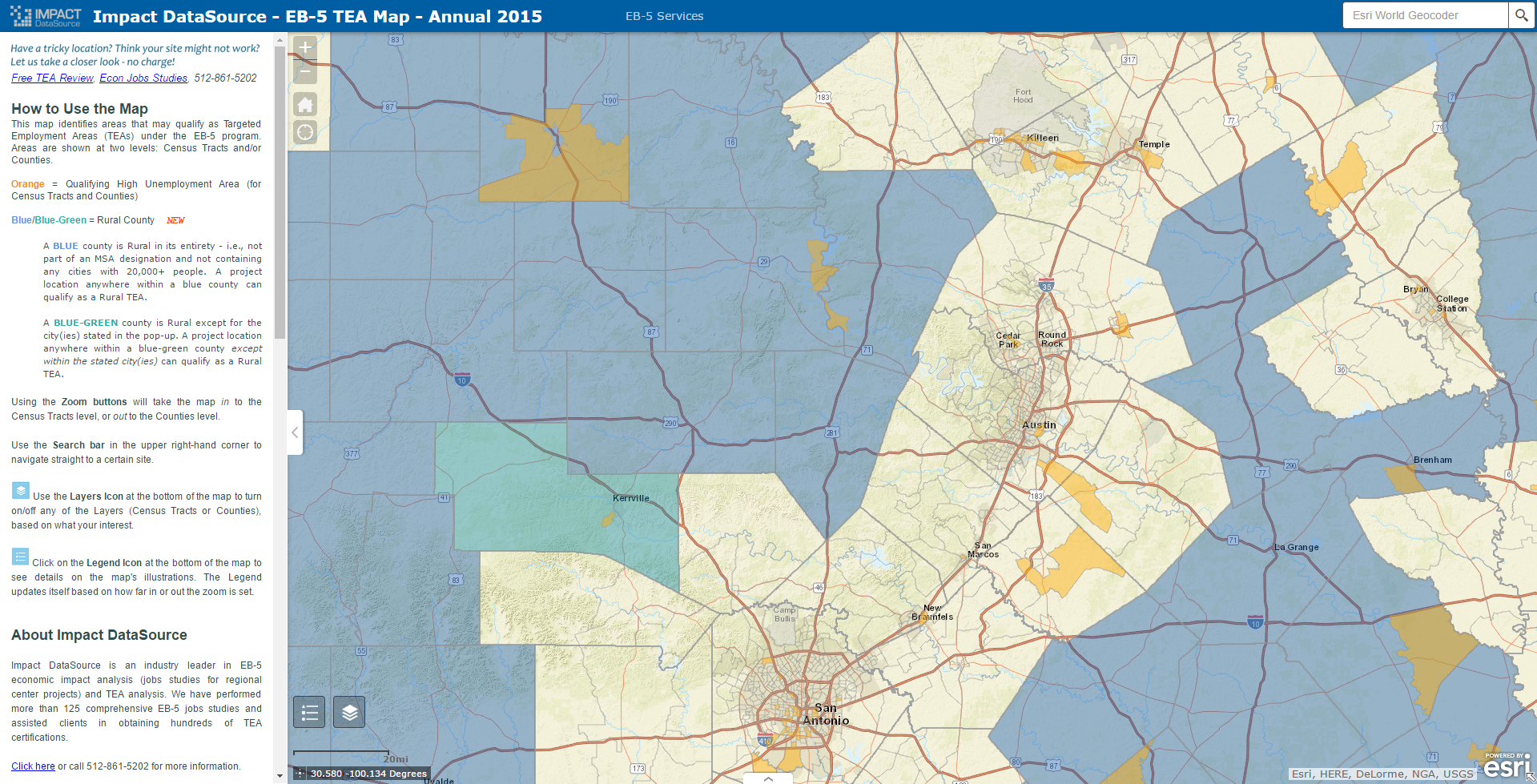 Our free TEA map has been updated with the new data and we are available to assist in evaluating potential EB-5 project sites. What's more, it includes new features! Besides high unemployment areas, the new map has smarter rural information (highlighted by blue shading). For example, the map will tell you if a county qualifies as a rural TEA in its entirety, or is rural except for a city with greater than 20,000 population (as guided by USCIS regulations). For example, the map will tell you that Humboldt County, CA is entirely rural except for the city of Eureka. Also – this county rural layer may be turned on and off.
TEA Webinar May 4th
In addition to the new high unemployment threshold rate and new data, we're likely staring down the barrel of some significant changes to the Targeted Employment Area definition so be sure to join our TEA webinar next month. Click the image to reserve your spot!